Midtown Wine & Spirits just sent me this email. I have not tried the Left Hand, but the Stone Cali Belgique is excellent when fresh:
Left Hand

Wake Up Dead

Barrel-Aged Russian Imperial Stout
From Left Hand: Just like the

Bolsheviks

of the early 1900s, our barrel-aged Russian Imperial Stout doesn't happen overnight. Patience is required. Wake Up Dead hibernates in our cellars for over 12 months before being blended to woody perfection. Hints of raisins, cherry, licorice and toffee, followed by earthy, herbal hop notes that rise up, joining you in your fight for a better life. Don't be afraid of the dark. All power to the stouts!
$9.99

/ 22 oz
Stone Cali-Belgique

IPA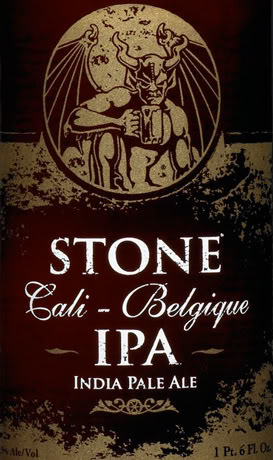 From Stone: When reading the name "Stone Cali-Belgique IPA", "Cali" hints that it is a California-style IPA, and this brew has an undeniable Belgian influence, indicated by the word "Belgique" (which is how Belgium's French-speaking population says the word "Belgian." The Dutch-speaking Belgians say "Belgie").
We carefully selected a Belgian yeast strain that illuminates a fascinating new aspect of the beer that is otherwise quite simply Stone IPA. The result is both completely new and different, while still being recognizable as a Stone brew -- and Stone IPA in particular. Think of it as an otherwise

identical twin

to Stone IPA that was raised in a Belgian Culture. Literally
.
$6.99

/ 22oz